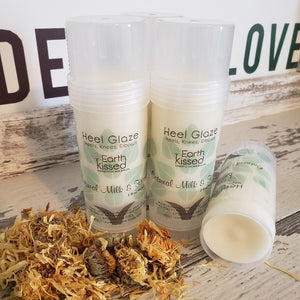 Made now with locally sourced beeswax with a blend of shea butter, coconut oil, and cocoa butter.  Infused with a blend of chamomile, calendula, and marshmallow root to help soften and protect your precious feet.
You can also use it on knees, elbows and anywhere else your heart desires. It comes in a 2 oz. twist up tube that is oh so convenient, you are going to love it!
How to use: Rub the stick directly on heels, elbows, or knees and rub in. Great for overnight relief with a pair of socks to help hold the oils in.
Please use caution when stepping onto bare floors until completely absorbed.
2 fl oz/59 mL