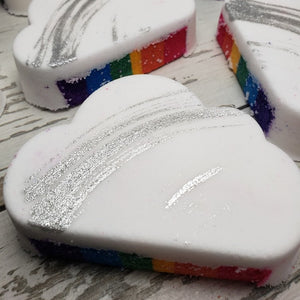 Every cloud has a Silver Lining, we just have to look for it sometimes...
It is scented with Desert Ghost Flower fragrance oil. Besides filling your tub with the scent of warm sand, rich amber and sweet cactus pear, it will put on a beautiful rainbow show as it shoots across the tub.

Ingredients: Baking Soda, Citric Acid, Cream of Tartar, SLSA, Grapeseed Oil, Poly 80, Mica
Fragrance, FD&C Red #40, Blue #1, Yellow #5

The oils used to make these bath bombs may make your tub a little slippery, so please use caution when exiting the tub!
Each bath bomb weighs ~ 5.5 oz.