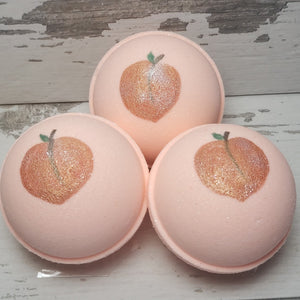 Yes please!  A burst of lemon and orange peel envelopes a fruity blend of white peach, star apple, juicy pineapple, and bubbly prosecco. These are packed with skin loving ingredients that will leave your skin super soft.
Ingredients: Baking Soda, Citric Acid, Cream of Tartar, SLSA, Macadamia Nut Oil, Poly 80, Fragrance, Mica/FD& C Colorants/Clays
Usage: Immerse in filled tub for a relaxing indulgent bath experience. 
These are large! 8 - 8.25 oz. each